Whether you plant for yearly harvesting, or want a permanent tree as an outdoor addition to Christmas festivities, here's some tips that will help your plan come true.
Consider planting these tree species:
Fir and Spruce: Both evergreen trees, fir and spruce, are both popular choices for Christmas tree harvesting and outdoor decorating. They are a native species, easily grown and mature to heights of 10 to 15 metres. With good sun exposure, these trees grow into a classical triangular look with a pointed crown. Blue Spruce, with their silvery blue needles, are a beautiful tree for private yards through every season. If you love blue lights, this is the tree for you.
Pine Trees: The wonderful scent of pine trees adds an earthy, fragrant addition to home festivities, so when you prune your tree after the sap freezes, save the boughs for garlands and door wreaths. Pine trees are easily grown water hardy plants that thrive in acid and well drained soils. There are 120 varieties of pine trees maturing in height from 15 to 45 meters with needles ranging from 45 cm (18 inches) to 10 cm (4 inches) long.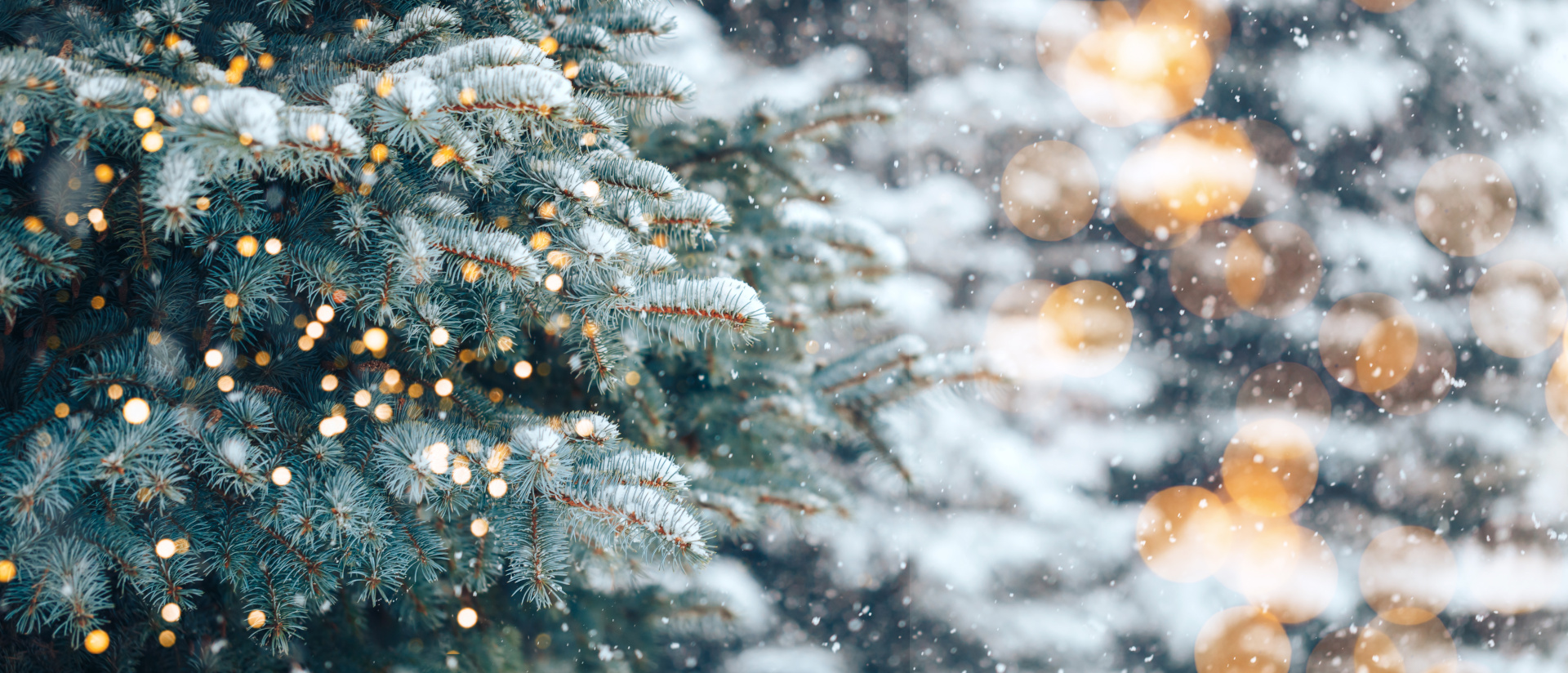 Optimally, you will plant in full view of your largest living room window, so that when it snows outside on Christmas day, you and your family can stand behind glass in the warmth of your home and watch the coloured lights glimmer. Trees need room to grow, so it's good to note the height and breadth of your tree species at maturity before you plant. Seedlings seem small when you bring them home from the nursery, but they quickly grow and need space to spread out into the light at a safe distance away from your house where seasonal storms blow down branches that damage rooftops and other outside structures.
Whatever you decide to plant for your outdoor Christmas tree, deciduous or coniferous, you can count on us year 'round for landscaping services that keep your back yard a delight to live in. Did you know? We are the South Okanagan's first choice in landscape lighting. Besides the creative effects of coloured lights in the Christmas season, lighting safely illuminates pathways and can be installed any time of the year. We invite you to call us to discuss all your landscaping needs, including permanent outdoor lights that shine through every season.