Okanagan nights can be very dark, but this does not have to be the case at home – consider landscape lighting. Lighting helps set the mood when relaxing or entertaining and brightens up any space. More so, lighting has some practical advantages.
Think of your outdoors area in different sections that can be lit up, such as back lawns, flower beds, patios and along pathways and driveways. Consider lighting up different walls of your home too. Although lighting will amp up the overall vibe of your outdoor living space, too much lighting will make it look flashy or showy. And more so, annoy your neighbours.
It is not uncommon for folks to go overboard when installing lighting. A way out of this is curb appeal. Curb appeal should leave onlookers awe-inspired when eyeing your premises from a distance (both front and back yards!). With that said, the following should come in handy:
Step back from your yard and pick the features that you want to stand out – that with additional lighting will add contrast and character.
A simple brick wall, fence or balcony that looks ordinary during the day can be spectacular at night when lit up.
Consider how wiring can run from the house to different sections, without digging up driveways or pathways. This can save you money.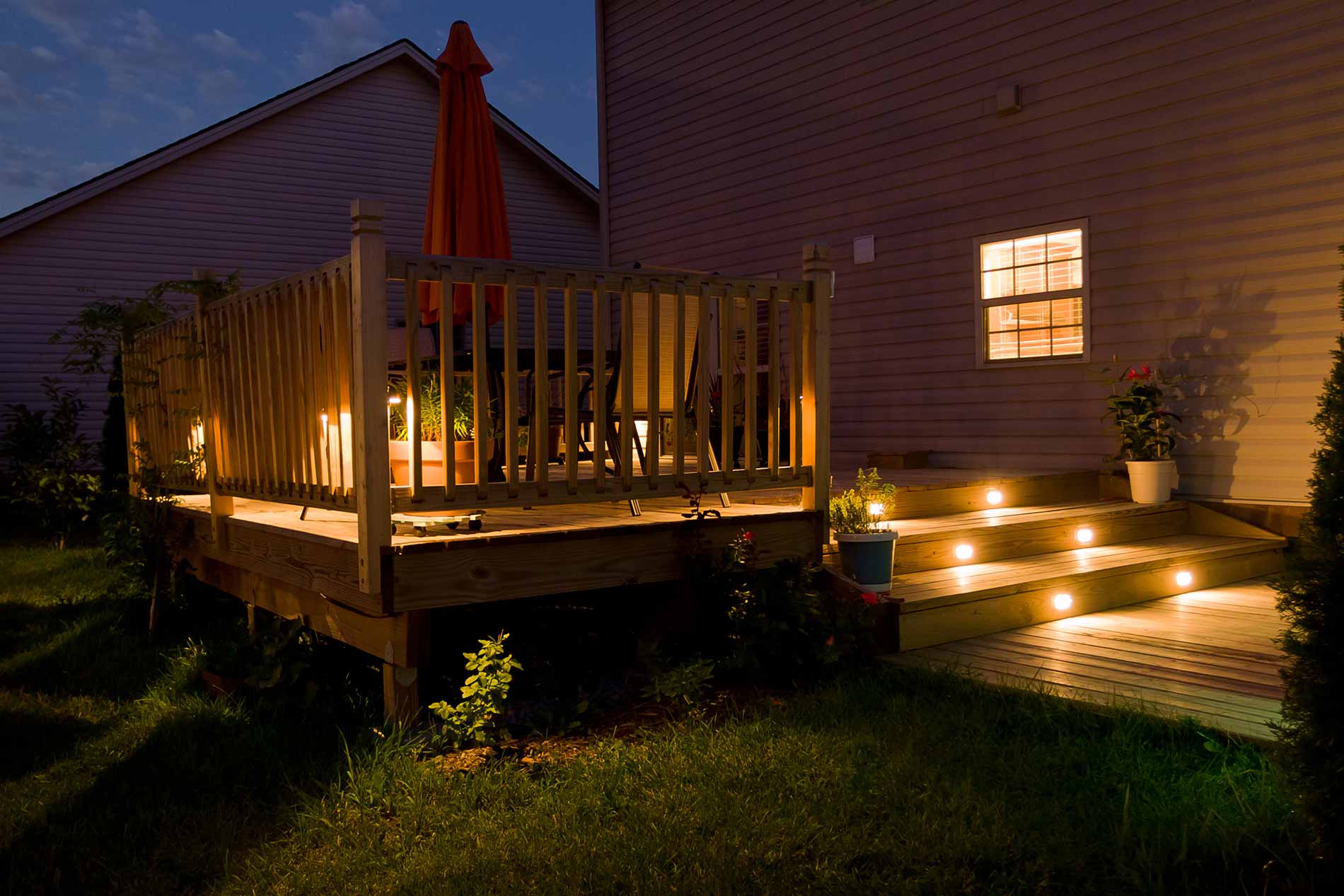 Now it's time to visit your lighting store!
Shopping for Landscape Lighting Fixtures
Now you have shortlisted the areas to light up, there are many fixtures out there to consider:
Spotlights have a narrow and concentrated beam, typically 45 degrees, that help highlight specific display points. They are adjustable and easy to use. They can be concealed in shrubbery or mounted under a soffit. If you have features such as a tree or a pond, spotlights are your best bet.
Floodlights have a wider beam spread up to 120 degrees. Their extensive reach is best suited for highlighting driveways or walkways. More so, they add a sense of security to your homes.
Inground lights are installed in flower beds, grass or set right into the concrete of a new patio. They cast a circulate area of light and work well to illuminate walkways. These lights are typically installed by running electrical wire between multiple lighting fixtures, all controlled with timers.
These set the ambience of the entrance of your home. Tall post lights are ideal for longer stretches, whereas short post lights are best suited for paths and corners.
Emerald Irrigation & Landscape Construction, based out of Penticton, offers stunning outdoor solutions throughout the Okanagan Valley. Call us or write to us for a free consultation.
Get started
with your outdoor lighting endeavour with our team of skilled and certified technicians.